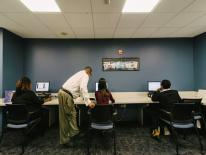 OPGS houses the Grants Information Resource Center (GIRC) which provides one-on-one technical assistance to District community and faith-based organizations, government, and nonprofits grant-seekers on ways to identify competitive grant funding and related resources.
GIRC offers computer stations with access to real-time searchable grant subscription data services such as the Foundation Center, Grants Direct, and Grant Station with a combination local, regional, national, and international funders and grantmakers. GIRC has a small library of printed literature on nonprofit capacity building and grant development topics. Our primary customers are nonprofit executive directors, board members, staff and volunteers associated with District based programs. Local consultants and grant writers also use the databases.
Hours of Operation
The GIRC is open from 9:00 am to 5:00 pm, Monday, Wednesday and Friday. Clients may schedule a 2 hour appointment anytime during these office hours. Clients may use the computers longer (during office hours) if available.
Please note that GIRC does not provide funding information on individual grants (e.g. loans and scholarships) or for-profits financial services (e.g. capital improvement loans and other business related funds). For more information about these services please contact the D.C. Office of the State Superintendent of Education's D.C. Tuition Assistance Program, D.C. Deputy Mayor of Planning and Economic Development, and D.C. Department of Small and Local Business Development.
How to Make an Appointment
To register for the GIRC follow the registration link - ONLINE GIRC REGISTRATION. One-on one appointments with new clients typically run 2 hours. Returning clients may book a computer for 2 hours (or longer, depending on availability of a computer). Customer Policies and Procedures
Welcome to the Office of Partnerships and Grant Services (OPGS) Grants Information Resource Center (GIRC). In order to optimize your use of OPGS's computer services while visiting the GIRC these policies and procedures are designed to make your visit(s) as productive and enjoyable as possible.
The GIRC facility is available during scheduled appointment times please abide by your scheduled time.
GIRC visitors/activities must stay within the GIRC facility.
Access to Internet resources is allowed with the understanding that some material that can be accessed on the Internet might be inaccurate.
Inappropriate materials could be encountered during research. If such inappropriate material is inadvertently encountered, it shall be disengaged from immediately.
DC Government rules prohibit the use of this equipment for anything other than nonprofit grant and capacity-related searches.
Users should never download or install any commercial software, shareware, or freeware onto network drives or disks.
Do not change computer settings.
GIRC staff must approve all printing requests.
You are allowed to print up to 10 pages only. All printing should be directly related and relevant to your search. Please bring a thumb drive to save additional material.
Young children are not allowed in the GIRC.
If you have any questions or comments about the GIRC call OPGS at (202) 727-8900.