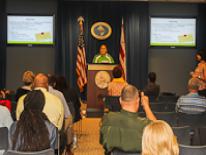 With a couple of clicks on your computer, or a few taps on your smartphone people from all over the world have the ability to support the causes of nonprofits globally.
For three intense days this fall, sixty different non-profit organizations from various wards in Washington, DC participated in the Crowdfunding For Non-Profits training hosted by the Office of Partnerships and Grant Services (OPGS) and GlobalGiving. The participating non-profits had one common purpose in mind, serving the residents of our nation's capital.
"This workshop helped me to clearly see the rising awareness of crowdfunding and the attention that we should place in understanding its process," said a non-profit donations manager.
Representing GlobalGiving at the training- was Manmeet Mehta, Senior Program Manager at Global Giving and Sonja Lehner, Program Associate at Global Giving. GloblGiving is a Washington, DC based non-profit that connects donors wit grassroots projects and provides online fundraising services. Ms.Mehta and Ms. Lehner discussed the benefits of using social media sites such as Facebook, to create a strong online presence. Lehner said, "We encounter a lot of organizations that are not really understanding that if they just put a project on the site or if they put a project online donations will flood in." This is why GlobalGiving was excited to partner with OPGS to provide non-profits with an alternative to fundraising.
At the trainings, many non-profits were able to develop action plans to launch new campaigns for fundraising through learning how to make a community more aware of a non-profit's goals.
Participants learned that from the individual in an organization, to a non-profit's partners, staff, volunteers, current donors and social networks a vast array of networks can be created for new ways to generate funds to keep non-profits afloat in the current economy. Participants also learned how to tell effective stories to secure donations on social media as well as to create videos that will promote greater support for their non-profits.
In an ever changing world of technological advances, online communication is vital to attract online donors. The success comes from being able to collect donations from people anywhere, at any time through online donations.
"I was thrilled to be able to attend every session, of the training at no cost and get this valuable information. In these economic times, it is critical to have access to information that will help nonprofits fulfill their missions," said the manager of a DC non-nonprofit.
In this training, many tips were provided to help non-profits launch successful campaigns for their organizations," said a DC non-profit executive participant.
The Office of Partnerships and Grant Services (OPGS) will continue to support non-profits, with additional training opportunities throughout the year. Be sure to check, OPGS' website for updates!
"This crowdfunding session was a great opportunity to attend. It allowed me to confirm, what I, had knew about crowdfunding, while getting a few extra tips. It also allowed me to bounce fundraising ideas off my peers in the non-profit fundraising field, plus get constructive criticism for each of them," said a volunteer of a local DC non-profit in the training.
Through interactive feedback and lively group activities, by the final day of the crowdfunding workshops, nonprofits left, with a new list of tools to add to previous ideas to keep their non-profit successful. Non-profits were able to make vital network connections, which will add to the benefit of their non-profit for future success.
A big thank you to all the non-profit organizations that attended OPGS' 2013 fall Crowdfunding for Non-Profits, three day training.
Prepared by Kelsey Nelson, Washington Regional Association of Grantmakers' (WRAG) Fellow and Intern for the Office of Partnerships and Grant Services. Article written on October 21, 2013.