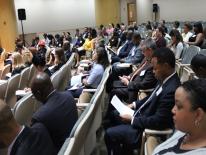 "Building People – Building Stronger Organizations"
The Nonprofit Sector Significance: Pathway to the Middle Class
The Mayor's Office of Partnerships and Grant Services in collaboration with the Center for Nonprofit Advancement held the 15th Annual Public Private Conference on Monday, September 28, 2015 from 8:00 a.m. to 4:00 p.m. at Kellogg Conference Hotel at Gallaudet University, 800 Florida Ave NE, Washington, DC 20002. The conference theme focused on the significance of the nonprofit sector as a major employer that according to the Bureau of Labor Statistics represents the highest percent 26.6% on nonprofit employment by State in the country followed by New York at 18.1% in 2012. The District's nonprofit sector is often viewed as a service provider seeking funding rather than a major sustainable employer whose employees are well positioned to succeed on the Pathway to the Middle Class.
Opening Plenary Session:
• The Nonprofit Sector as the Pathway to the Middle Class in the Washington Metropolitan Area Conference Workshop
Topics:
• Significance of the Nonprofit Sector as a Sustainable Employer
• What are the Employment Needs of the Nonprofit Sector?
• Aligning Workforce Development and Placement to Employment Opportunities
• Straight-Talk Encouraging Millennials to seek Nonprofit Careers
• Potential Funding and Grant-making Strategies for Service Providers
• Prioritizing and Funding Successful Nonprofit Capacity Building Initiatives
Closing Plenary Session:
• Review of Lessons Learned and Draft Policy Recommendations for the Mayor.
The following is the link to the video of the Conference: https://youtu.be/U0kRAXPpgsU.