OPGS Director Lafayette Barnes Receives CNA's Phyllis Campbell Newsome Public Policy Leadership Award 2013
OPGS Director Lafayette Barnes Receives CNA's Phyllis Campbell Newsome Public Policy Leadership Award 2013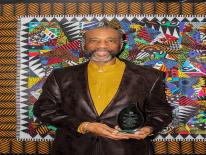 Lafayette A. Barnes, Director of the Mayor's Office of Partnerships and Grant Services (OPGS) received the Phyllis Campbell Newsome Public Policy Leadership Award from the Center for Nonprofit Advancement (CNA) during its 34th Annual Celebration held at the historic and newly renovated Howard Theatre on October 17th. This prestigious award named after CNA's late Director of Advocacy and Community Relations recognizes elected and non-elected public officials from the Greater Washington Metropolitan Region for their exemplary contributions to nonprofits in their respective jurisdictions.
Director Barnes is the latest District government official, following such notables as Mayor Gray, and DC City Councilmembers Bowser, Catania, Mendelson, and Wells to receive this distinguish award. The Honorable Sharon Bulova, Chairman, Fairfax County Board of Supervisors, the Honorable Valerie Ervin, Montgomery County Council, and the Honorable Ingrid M. Turner, Prince George's County Council are also 2013 awardees. During the ceremony, Lafayette thanked the Executive Office of the Mayor, OPGS staff, and especially Pat Henry for their invaluable support that has enabled him to consistently demonstrate the exemplary public leadership and service recognized by this revered award.
For more details about the Phyllis Campbell Newsome Public Policy Leadership Award please visit the Center for Nonprofit Advancement's website at http://www.nonprofitadvancement.org/.