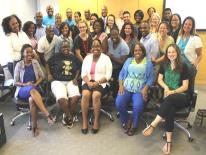 The Mayor's Office of Partnerships and Grant Services (OPGS) partnered with The Magi Group, LLC and offered a proposal writing course for District Non profit Executives and Developemnt Staff (which was held from May 12 to June 30, 2015). Designed for both the novice and the experienced individual, this intensive 8-week course combined expert instruction, with practical exercises, taking you step-by-step through all the stages of planning programs, locating funding sources, and writing grant proposals. Using common grant development formats, the course proceeded step-by-step through the development of a proposal with emphasis on the following:
How to assess the capacity and funding attractiveness of your organization
How to develop relationships with funders
How to develop a compelling statement of need
How to design evidence-based programs and create a clear logic model
How to make work plans work for you
How to avoid the common pitfalls of proposal writing
How to prove that your programs and services will work
Also discussed were writing techniques to help make your grant-writing process smarter and faster. The instructor presented valuable content information; then while you worked on your own project, he provided consultation and support helping you to refine your own proposals. You also learned how proposals are reviewed. Participants currently developing a grant were encouraged to bring them to work on during the class.